Prices are inclusive of Duties and Taxes (VAT).
Prices are net which means that duties and taxes are included in the prices.
No minimum order amount. You can even buy a single set.
Get your name/logo printed in only $2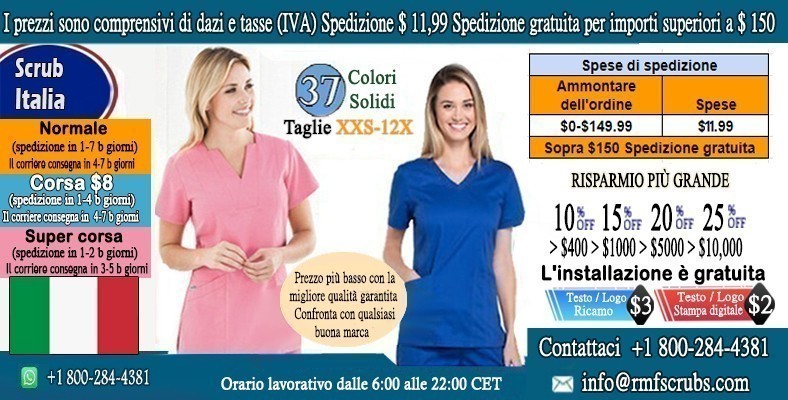 Scrubs in Italy, Hospital Scrubs, Cheap Nurse Uniforms.
Since our seller is registered in the REX system (REX # PKREXPK13503189), so NO import duty should be paid, only VAT should be paid. You can pay the VAT directly to us at the checkout or at customs when the shipment is delivered to you. When you pay VAT to us, you save on the customs clearance fee (which is 15 euros in most cases).
For any clarification on duties and taxes, send us an email at info@rmfscrubs.com
According to our information, companies also do not have to pay VAT, so please make sure you place the order with your business name and ship it to your business address.
Shipping is $6.99 and free shipping is over $65 purchase. There is no minimum order amount, you can buy as little as one product.
Normal delivery is 8-13 B days. Rush orders ship in 1-4 B days and the carrier delivers in 4-6 B days. Embroidered/Altered/Custom Items may take 1-5 days more.