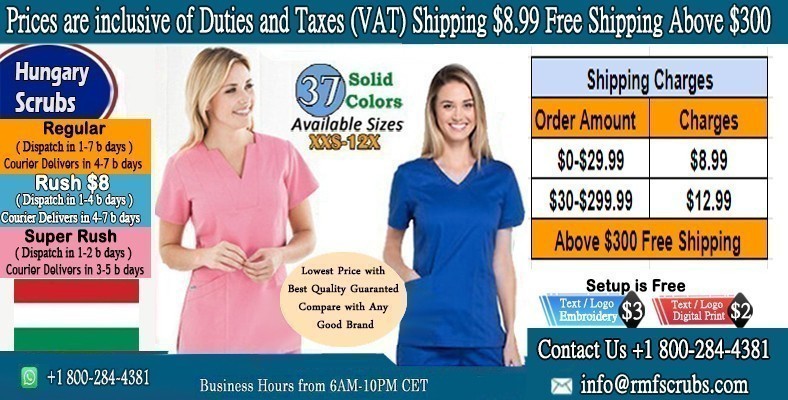 Scrubs in Hungary, Buy Nurse Uniforms, Cheap Scrubs. Scrub Set $9.25, Scrub Top $4.99, Scrub Pant $6.25, Lab Jacket $8.50, your own Logo or Name embroidery $3, Shop Medical Scrubs, discounted scrubs
Since our seller is registered in the REX system (REX # PKREXPK13503189), there is NO import duty to be paid, only VAT. You can pay the VAT directly to us at checkout or to customs when the package is delivered to you. When you pay us the VAT, you save the customs clearance fee (which is €15 in most cases).
For information on duties and taxes, please email info@rmfscrubs.com.
Please note businesses do not have to pay VAT, so please make sure you place your order with your business name and ship it to your business address.
Shipping is $11.99 and free shipping over $225 purchase. There is no minimum order quantity, you can buy even a single product.
Standard delivery takes 8-13 B days. Express orders are delivered within 1-4 B days, and the courier delivers within 4-6 B days. Embroidered/altered/personalized items may take 1-5 B days longer.
Logo / Text Embroidery: Get your logo/name/address embroidered for just $3.
Buyers in Hungary
1- Mediburg Klinika Kft http://www.mediburg.hu/
2- Semmelweis University http://semmelweis.hu/english
3- Petz Aladár County Teaching Hospital https://www.petz.gyor.hu/
4- Hungarian Interventional Therapy Foundation https://vascular.hu/
Resellers: Resellers can sign up for a wholesale account and get up to 10% off https://www.rmfscrubs.com/WholesaleAccount.html
Please note that we also offer a neutral label (non-RMF label) for an extra charge of 1% of the order amount.