For queries call us at (02) 8006 9235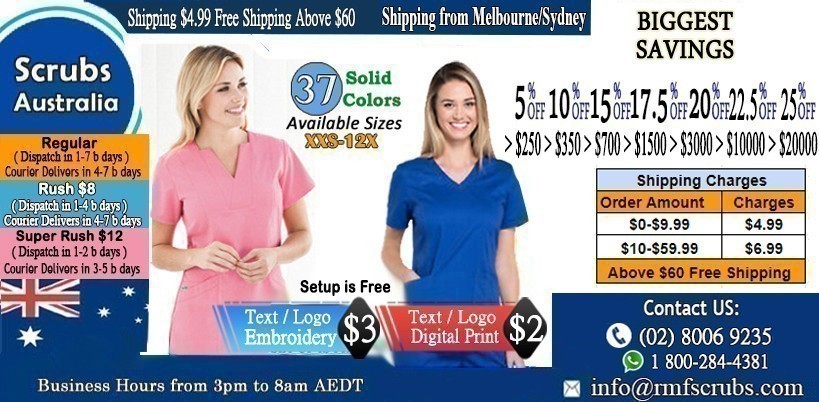 Australia Scrubs, Cheap Scrubs, Best Quality Nurse Uniforms
Scrub Set $9.25, Scrub Top $4.99, Scrub Pant $6.25, Lab Coat $8.50.
We strive to provide the best selection of nurse clothes and medical uniforms at prices that can't be beat. Here at RMF Scrubs we pride ourselves with providing high quality nursing scrubs, medical and veterinary apparel to professionals around the world. Whether you are a Veterinarian, Dentist, Nurse, Doctor or Child Care professional RMF Scrubs has the right uniforms to fit your needs. Our comfortable and professional RMF Scrubs collections are offered in a variety of colors, prints, sizes and styles, all at cheapest prices you will find nowhere. We are the only one in the market selling the widest range of plus size scrubs, our plus size nursing uniforms are available in sizes from XXS-12XL. In fact, with our vast assortment of Discount Scrubs, you're certain to find exactly what you're looking for in health care apparel.
We excel in providing embroidered scrubs and custom nursing uniforms. Here you can get your scrubs apparel embroidered or screen printed with your Name or Logo for as less as $1.
MAJOR AUSTRALIA CLIENTS
QUEENSLAND HEALTH | LOGAN HOSPITAL | NORTHERN HEALTH HOSPITAL | THE ALFRED HOSPITAL | ROYAL PERTH HOSPITAL | BEENLEIGH VETERINARY HOSPITAL
AUSTRALIAN PAYMENT DETAILS
Australian customers can now pay directly into our bank account and save 4% payment method surcharge, as bank transfer option is free.
You can also find Australian Bank details on our website https://www.rmfscrubs.com/Bank-Details.html?mode=preview
AUSTRALIAN BANK DETAILS
Account holder : RMF Scrubs LLC
Account number : 417334642
BSB Code : 802-985
Address : Transferwise, 36-38 Gipps Street, Collingwood VIC 3066, Australia